Swan in the sky
Monday, September 26 2011 @ 06:40 MDT
Contributed by: evilscientist
Views: 1,649

Instead of doing my school observations this weekend, I and the Evil clan nipped off to the
Alberta Star Party
. The first night I had to borrow Mrs. Evil's telescope since, by tradition now apparently, I forgot the tripod for mine. A quick trip back to cowtown and I had my tripod and could use my 'scope for some astrophotography.
In this case, it's M17, an emission nebula in the constellation Sagittarius. Known by several names such as the Swan Nebula, the Omega Nebula, the Horseshoe Nebula and the Lobster Nebula, this nebula is a star forming region between 5000 and 6000 light years from the Earth.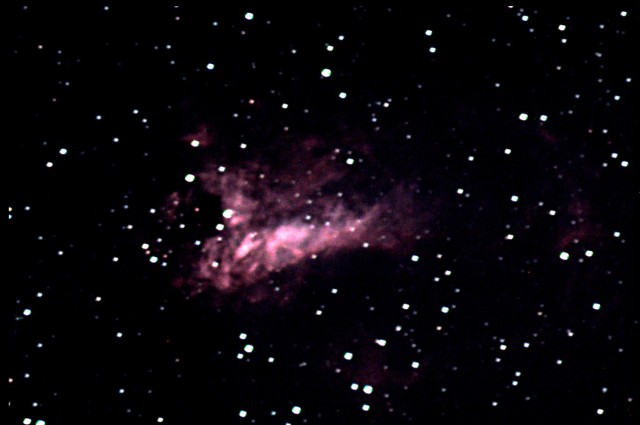 Click image to enlarge.
This particular image was taken at the ASP at the Starland Recreation Area using my 127mm Maksutov-Cassegrain telescope with my Orion SSDSI III monochrome imager. A stack of four 90 second luminance images for a total of 360 seconds and 90 seconds each with red, green and blue filters.