Into Ignace
Tuesday, July 03 2012 @ 09:35 MDT
Contributed by: evilscientist
Views: 3,938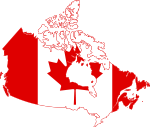 Day three was a non-travel day where we spent part of the day in Winnipeg. We went to the Forks, had some perogies and then headed to a supermarket since Simon was being very fussy with the heat and humidity. We found one of the few supermarkets open in Winnipeg on Monday (a stat holiday) where we stocked up on food and then headed back to our campsite just outside of Headingly. A couple of more trips were made into Winnipeg, partially because we needed other things, mostly because it allowed us to escape the heat and humidity in the air conditioned car. Eventually things cooled down enough to call it a day.
Day four was a trip from Winnipeg to Ignace, Ontario. Another uneventful drive though northern Ontario with stops for fuel in Kenora and Dryden. Our campsite in Ignace is nice though rustic as it doesn't have wifi (we have full hookups (EWS) so not that rustic), so I have to connect to the internet using my internet stick. Oh the primitiveness of it all.
On a side note a couple of things about northern Ontario. First there seems to be considerably less insects flying over the highway than on the prairies. After Kenora, there was little need to clean my windshield in either Dryden or in Ignace.
Second, for a two lane highway, there seems to be considerably less stupid people driving on it, and those rare few that are come from out of province. Unlike driving the Trans-Canada highway through the BC rockies, I was not once passed by someone doing 120 in a 90 zone crossing a double line. This is a common occurrence on the Trans-Canada in BC/Alberta after Lake Louise. I suspect the residents of northern Ontario figure it's not the government's job to facilitate their bad driving by twinning the highway.
Anyhow, on to some photos from the automated camera.
Leaving Winnipeg: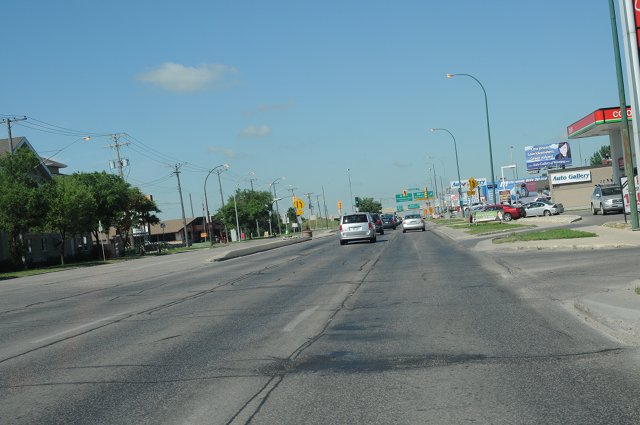 I've never quite understood the predilection of Manitoba to put scores of traffic lights on freeways, you just get up to speed and wham, another red light: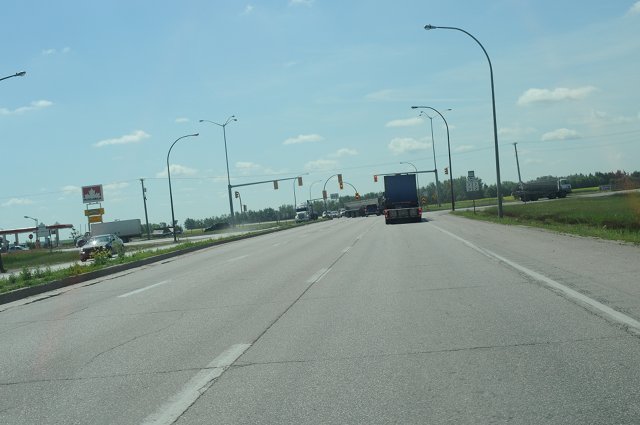 Driving through Manitoba east of Winnipeg: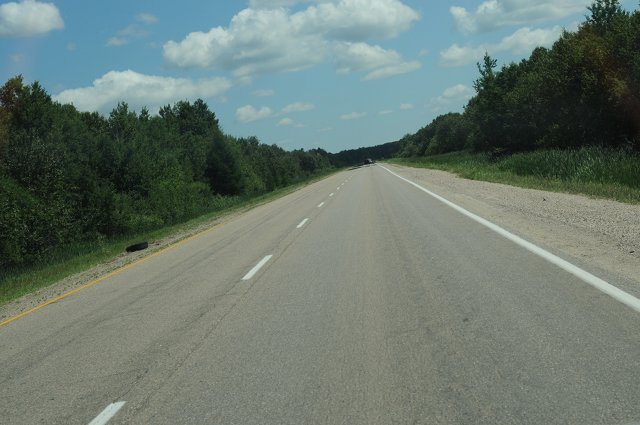 Some of the City of Kenora where we stopped for fuel and PBJ sandwiches.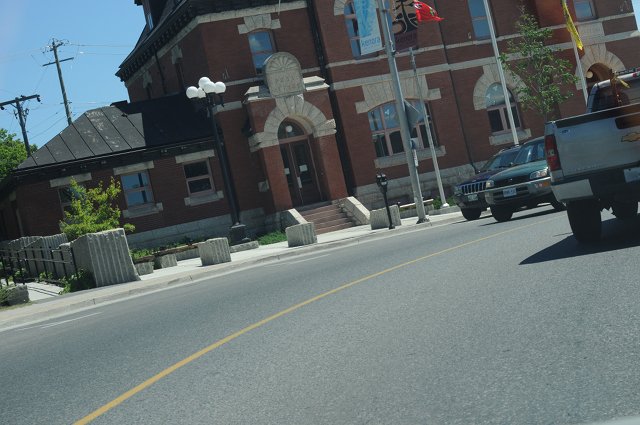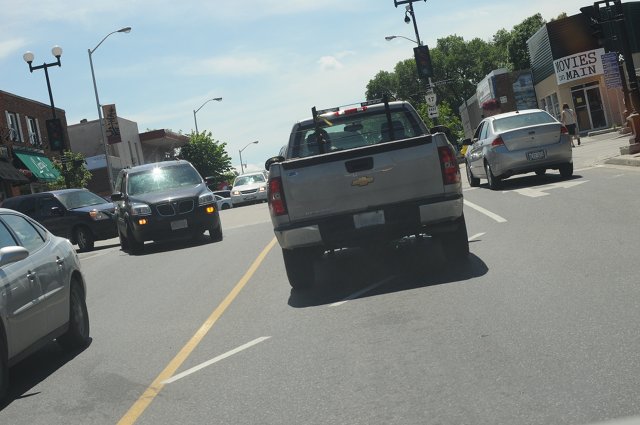 Some of the drive through northern Ontario. It's all pretty much like this for kilometre after endless kilometre: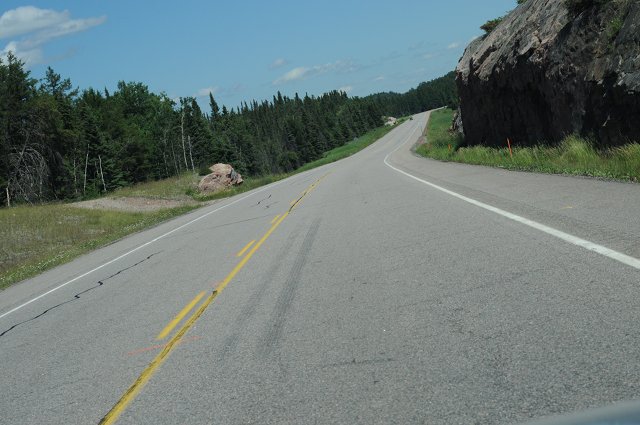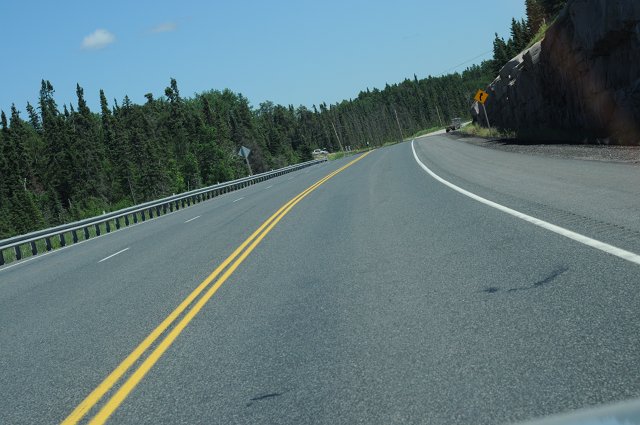 The town of Dryden. The tall building towering over the town is the pulp mill: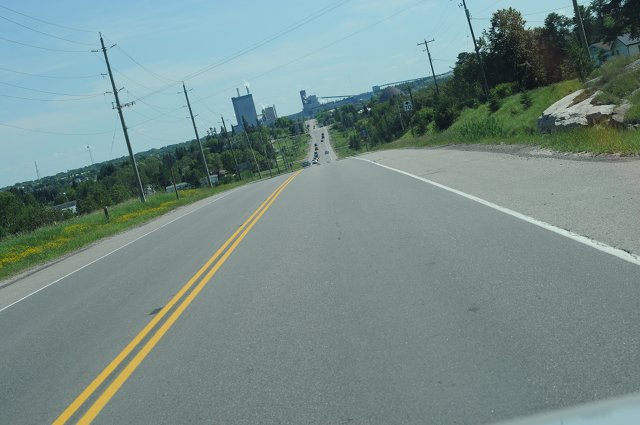 Finally our campsite in Ignace.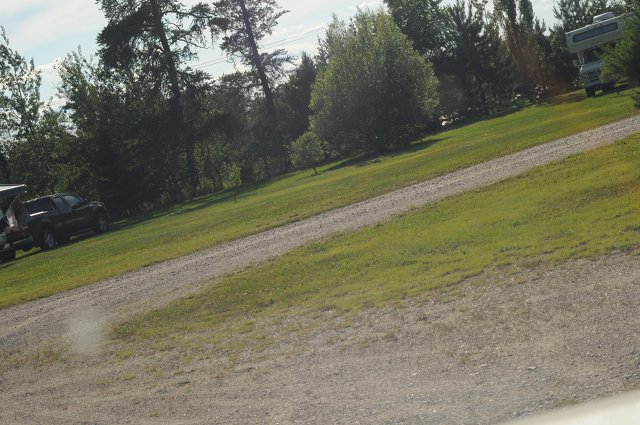 On to Thunder Bay and Marathon tomorrow!